Welcome to the Greater Baltimore Akita Club's
home on the web!

The Greater Baltimore Akita Club (GBAC) was founded to promote the health and well-being of the Akita breed and to offer Akita owners a way to gather in support of these magnificent dogs.
In 1986, GBAC was recognized by the American Kennel Club as an accredited club and eligible to hold sanctioned AKC matches. Since then, GBAC has held over 20 matches, celebrating the Akita and offering owners a place to compete and train for the show ring.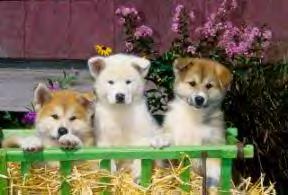 GBAC is a member club of the Akita Club of America. Each November, GBAC holds an ACA Regional Specialty dog show where akitas from all over the east coast come to compete. This show is held in conjunction with the Northeastern Maryland Kennel Club dog show at the Howard County Fairgrounds. See our EVENTS page for information on this year's show.
GBAC holds monthly meetings which often include a program of interest (i.e. grooming, handling, health, etc.) The public is welcome to attend these meetings. Please see our Events page for upcoming meeting information.